Rent a car in Batumi. Car rental at advantageous prices with Naniko
Over the past decade the popularity of Batumi as a seaside resort and tourist destination, has increased significantly. Besides the enormous historical heritage, the city offers a vibrant nightlife with plenty of entertainment, as well as the beautiful beaches of the Black Sea littoral. It hosts rousing beach parties with famous DJs, where have fun both tourists and locals.
Take an advantage of auto renting in Batumi to easily visit this wonderful town and the nearby regions of Georgia, with characteristic features of the atmosphere and the beautiful landscapes, taste the delights of the sea air, see the old buildings and enjoy the culinary tradition.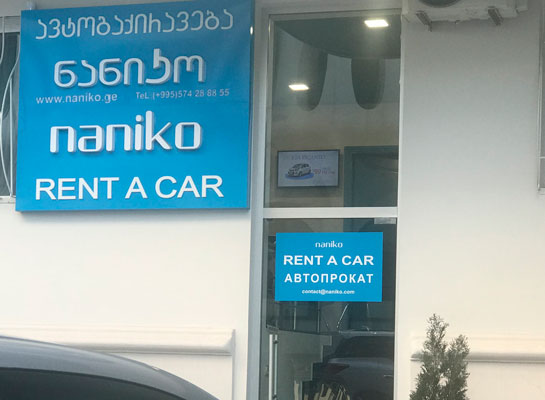 Do not miss the chance to travel comfortable with the services of auto hired in Batumi, provided by Naniko!
If you do not have the skills of car driving, or just want totally relax in your trip good for you can be a driver services.
With this service you will perfectly enjoy your vacation, or do not worry about being late for the meeting if you are traveling on business. With the disposal of a local driver is no need to worry about learning maps, or look for a place to park.
We offer reliable drivers, fluent in several languages, fully trained, professional and courteous.
By us you get the lowest prices, in which already considered the cost of insurance, taxes, emergency roadside assistance in case of failure.
We have no penalties for changes or cancellation, it is sufficient to notify two days before the term of the lease.
There are no hidden costs or extra charges of mediation you will not find , as Naniko is an independent company disposing its own fleet.
You are free to choose the method of payment, as you wish, make a prepayment when booking or directly at the reception of the vehicle.
Unlimited mileage provided by Naniko for vehicle renting in Batumi will allow you to explore more of the beautiful roads!
Visiting Batumi, you will be impressed by its amazing architecture which is a gorgeous mixture of centuries-old buildings with ultra-modern buildings, harmoniously woven together.
Botanical Garden is a fascinating place, where about five thousand species of exotic plants and where guests can spend the day outdoors.
The hot and humid climate allows you to enjoy the lush nature. Everywhere felt an intense flavor of magnolia, citrus and cypress.
With excellent service of car rental in Batumi, you can reach the fortress Gonio of Antiquity, built on the site of the Greek Apsaros, about 15 kilometers from Batumi. In ancient times it was an important defensive outpost of the Roman Empire in the East.
Also read:
Car rental in Batumi airport