Car rental in Batumi Airport. Best rent a car with Naniko
Georgian town of Batumi, on the Black Sea, never discontinue to astonish with its beauty and attractiveness the visitors and vacationers more and more.
In addition to many cultural and historical monuments the tourists are invited to tour an array of modern entertainment and innovative structures, such as a new leisure center on the mountain Anuria and more.
For your trip, you can securely book a car rental at the airport in Batumi with our online booking system on Naniko.com. Some features and advantages of this service are indisputable and simply, primarily due to significant savings, comfort and freedom of movement.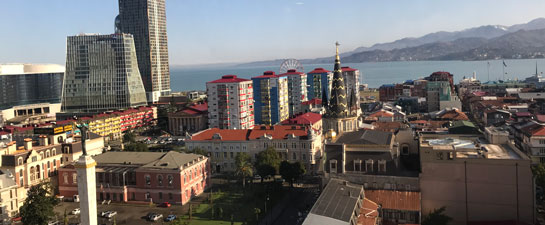 Do not embarrass yourself by lack of facilities outside the home, use your auto hired at the airport in Batumi with unlimited mileage from Naniko!
Mileage with no limit granted to all our vehicles, so you can drive as far as you want.
Help on the road under any faults you get for free and without delay.
We always try to provide the lowest rates, which are already include the cost of insurance and all local taxes.
Our extensive range of vehicles to meet your every request and is designed to fit any budget.
If you have special requests regarding the technical data and parameters of the machine, our specialists will offer you accordingly the cars with automatic or manual gearbox, diesel or gasoline, etc.
You would not expect a unpleasant surprise of hidden charges that initially would not be clearly indicated.
Our priority is customer service and satisfaction, so you always, at any time of the day can get any advice from our operators.
With vehicle rented from the airport of Batumi with Naniko you can explore many of the local attractions!
Batumi Airport has a number of internal and international flights operating weekly. Popular and sought after destinations are in Turkey, Boryspol, Dnepropetrovsk and others. Here operate different airlines like Aerosvit Airlines, Turkish Airlines, etc.
The airport is only a few kilometers from Batumi, and 25 km from Hopa, Turkey. Its strategic location is convenient for its active use for flights in north-eastern Turkey.
The area occupied by the airport is 4256 square meters, and the annual traffic is about 600 000 people.
The city has a new cabin lift, accommodating 8 passengers, with a magnificent view of the surrounding hills, the suburbs, the beautiful historic center borders by the sea.
This kind of connection between the old and new fits perfectly into the successful symbiosis of modern architecture and traditional old buildings. The new cableway was named after the legendary Greek heroes ship Argo, 3,000 years ago sailed to Colchis in search of the Golden Fleece.
Also read:
Car rental in Kutaisi